Instructional Framework Overview
The Berkeley County School District Instructional Framework provides the basis for a continuous improvement model, in which we meet the needs of all students by:
Being proactive,

Using research-based, scientifically validated interventions and instructional strategies,

Monitoring student progress,

Using a multi-tiered, problem-solving model

Engaging stakeholders, and

Using data to adjust instruction.
The BCSD Instructional Framework includes the following components:
Teaching & Learning Model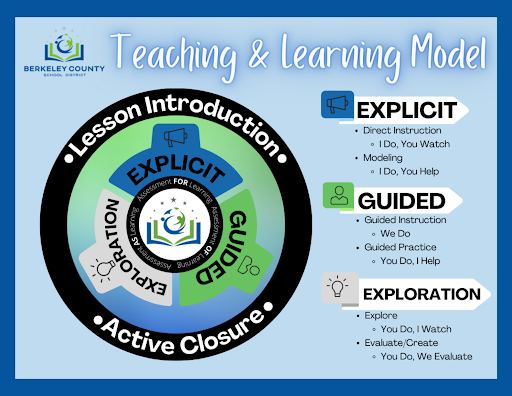 During the Implement Component of the BCSD Instructional Framework, the BCSD Teaching & Learning Model should be used in every classroom. As part of the continuous improvement framework educators will plan, implement, monitor, and reflect in order to unleash the power and potential of every BCSD student. During the Implementation Component of the Framework teachers will provide a Lesson Introduction, then move flexibly to provide the level of teacher support needed for students within the Explicit, Guided, and Exploration Component and then facilitate an Active Closure. Instructional Snapshots and Resources are also available to support implementation of the Teaching & Learning Model.