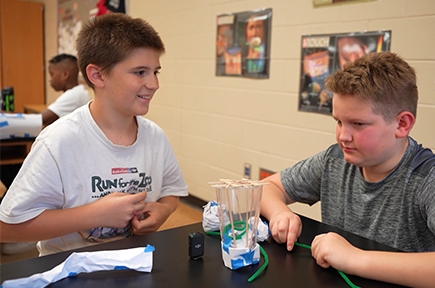 Berkeley County School District has embraced the "maker movement" in education that is sweeping across the nation to promote hands-on, project-based learning to students.
The STEM/STEAM (science, technology, engineering, art and mathematics) educational approach to learning continues to grow in the district. With the evolution of designated STEAM schools, and new Makerspace classrooms continuing to pop up, BCSD is preparing students for life after high school by empowering them to think critically and creatively to solve problems.
Many BCSD schools utilize the STEM/STEAM approach to reach students. STEM/STEAM lessons teach students to look for the problem in a given assignment, and use the tools they have to fix it – anything they know about science, technology or engineering (etc.) to complete projects and find solutions.
While many district schools and teachers implement STEM/STEAM lessons, there are four schools in the district that have attained STEAM endorsements: Philip Simmons Elementary, Philip Simmons Middle, Bowen's Corner Elementary and Foxbank Elementary. For each of those schools, STEAM is not just a collection of subjects and an approach to learning; it is a mindset and a part of the school culture.
Schools can go the "team" route to become a STEAM-endorsed school, but BCSD also has teachers throughout the district that went the individual route to become STEAM Endorsed Teachers; earning the title requires teachers to complete three years of STEAM training through an ongoing collaboration between the district and Clemson University.
In addition, BCSD has a handful of schools that have established Makerspace classrooms. These special classrooms have been popping up in schools all around the country in recent years as designated areas for teachers to implement STEM/STEAM projects. Equipment may differ from school to school, but many Makerspace rooms offer a combination of items like computers, 3D printers, art supplies, woodworking tools, LEGOs, cricut machines and more. In these classrooms, one may find students using their technology skills to program robots, or putting their engineering knowledge to the test to construct towers out of provided material.
Throughout the year, schools often get families involved by hosting STEAM Family Night events to allow families to engage in their students' learning. Schools also occasionally receive a visit from the district's tech mobile, called the iTow Truck, which is packed from floor to ceiling, wall to wall, with the latest and greatest of instructional technology tools that truly engage the students and give them that hands-on activities that make learning fun. The iTow Truck will also sometimes swing by the district's STEAM summer programs.
These STEM/STEAM approaches work hand-in-hand with BCSD's Career and Technical Education (CTE) programming, as CTE is very career-focused learning that provides students with opportunities to explore future careers, and ties into BCSD's goal to have its students both college and career-ready by the time they leave high school.
BCSD's tech team continues to find ways to support the maker movement in the district through training and collaboration opportunities to connect educators and schools.